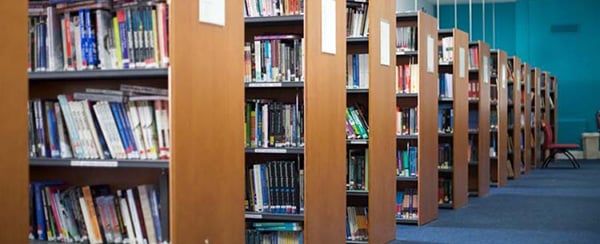 Griffith Library: Cork, Dublin and Limerick
It is Library policy to make as many of our services available online as possible. We are committed to facilitating part-time and blended students, and students wishing to work from home. In support of this commitment, we use new and emerging technology to enhance the learner experience, to facilitate and support those studying and working remotely, where ever they may be based.
One to One
We understand that every learner's journey is individual, whose challenges and needs develop over time. Advice and guidance offered at the right moment can be hugely beneficial. This may be a short conversation or clarification on a specific question, or it could be a series of conversations over the course of a three-year degree. We encourage our learners to contact us at any stage and together we can work out the best way to offer relevant support.
Group workshops
The Learning Lab in the library on the Dublin campus is used for developing research skills and for general library inductions. These workshops are also offered over Zoom.
The classes have proven popular with small groups of students. Working in these labs together allows participants to better support each other. Learners continue to share knowledge they have gained in the workshops as they move on to work on their various assignments..
Small group labs/workshops may be booked by students and staff at the library desk or email. These may cover specific topics of interest such as using relevant online databases, linking in to referencing software such as Zotero, and making the most of the colleges digital resources.
Keep an eye out for short, scheduled classes on offer throughout the semester also.
In-class Workshops
We can also arrange to come into the classroom for in-class workshops.
We offer a range of classes to support learners in their academic research and writing. In consultation with lecturers we will create bespoke workshops to better target and personalise our teaching material.
Off Campus Support: Blended and Remote Learners
The Library is here to support all our students across all our campuses and partnerships. We offer a range of opportunities to engage with library staff and resources, to promote access to relevant library resources.
Zoom - Individual and Groups
An important aspect of library services is the ability to have ease of access to library staff. This service can be accessed while working remotely, through arranging individual face to face meetings over Zoom. The Library also offers our popular smaller group labs remotely. Email or call the library to arrange a time
Email
Email a query to the library and a librarian will contact you as soon as possible. The Dublin campus has extended opening hours, and is there to support all three campuses, so if your query is time sensitive please email them with your query.
Phone
The Library can also be contacted by phone to answer questions or queries. For more detailed support queries, we can pre-arrange a phone call to discuss research questions or to recommend relevant guides and resources.